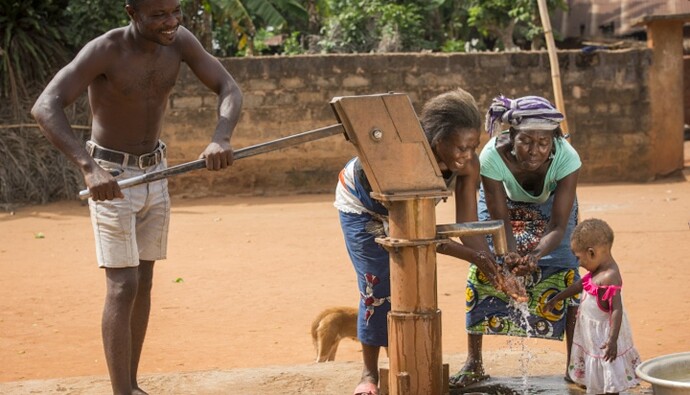 This live written panel discussion explores how business can ensure people are at the centre of climate action. This event was part of an ongoing programme of conversation and collaboration in the lead up to COP27 on business and climate justice.
LIVE Panel
Thursday 12 May 10am-11am ET/ 3pm-4pm BST
Background
This online discussion explores how a company's policies and products can be better informed by the needs of those impacted by climate change, and how employees can help shape a company's approach to climate justice. It will also explore questions of transparency and accountability for action. Who holds the company to account? How are commitments and actions made transparent to customers / clients / suppliers?
Panel
Damilola Ahmed, Senior Marketing Officer, Practical Action

Caroline Downey, Executive Director, Women Working WorldWide

Liz Foggitt, Communications and Events Manager, Bonsucro

Shreya KC, Youth Climate Change Champion for UNICEF South Asia & an advisor for Nepalese Youth for Climate Action

David Taylor, Policy Manager, Fairtrade Foundation

Japheth Muli, Programme Manager, East Africa, Hand in Hand

Jevanic Henry, UN Foundation Next Generation Fellow, based in St Lucia

Lalit Guglani, Manager, Business Innovation and Entrepreneurship Centennial College

Gladys Habu, Climate Advocate and Unicef Ambassador, Solomon Islands

Gabriel Kpaka, UNFCCC National Focal Point, Sierra Leone and DG Sierra Leone Meteorological Agency

Manav Khanna, Phd Candidate on circular economy and World Bank and IMF youth climate ambassador

Moderator: Alice Allan, Collaboration Director, Business Fights Poverty
Questions
What examples are you aware of where a company, or other entity, has sought the views of communities impacted by climate change to inform its operations, practice or product development?

What are the biggest challenges for business, in working with impacted communities and how can transparency and accountability to impacted groups be improved?

What role can technology, including social technology, play to ensure that impacted communities can contribute and innovate towards the just transition?
Format
This is a text-based discussion. There will be no video or audio. Please post your comments below. After the live session, this discussion will remain open, so please do continue to share your insights.
How to add your comments
To post a comment, you will need to sign in / sign up to the Business Fights Poverty Discussion Forum:
If you are already a member of the Business Fights Poverty online community, click "Log In" at the top right of the page and then enter your details. If you have not logged into our new community platform, you will have to reset your password here
If you are not already a member of the Business Fights Poverty online community, you will need to sign up here . Once you are have joined the community, you can return to this discussion page, click "Log In" at the top right of the page and then enter your details.