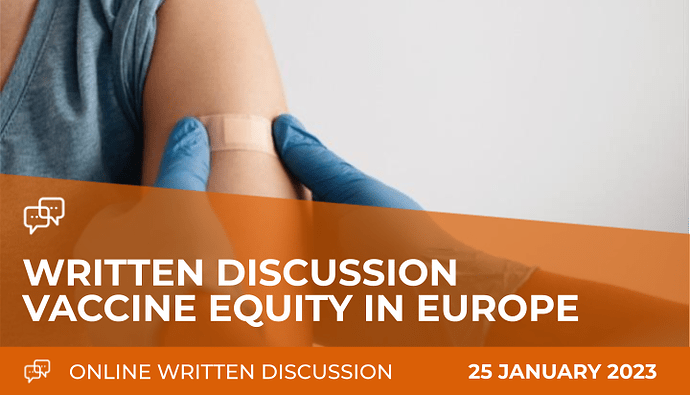 This live written panel discussion explored how we can advance vaccination equity in Europe, and address disparities in coverage amongst people affected by income poverty, severe material deprivation or social exclusion.
LIVE Panel
Wednesday 25 January, 10 to 11am EST / 3 to 4 pm GMT
Background
Vaccinations throughout a person's life, have proved to be one of the most important public health tools in history - saving lives and simultaneously bringing significant social and economic benefits. They remain a vital tool in the fight against antibiotic resistance and there are exciting developments in the pipeline with more vaccinations that can prevent cancers as well as combined flu and COVID jabs.
However, the benefits vaccinations can bring are not being felt equally by all groups in society. For example, in the UK the lowest uptake of the flu, shingles, whooping cough and PPV vaccines are in the most deprived areas. During COVID-19, poor, black and ethnic minority and migrant populations consistently experienced lower rates of vaccination.
There are also disparities in confidence in vaccinations - with a recent EU-wide study finding that younger people have less confidence than older people.
Business Fights Poverty is being supported by MSD to better understand the links between immunisation and poverty in 5 European countries: France, Spain, Italy, Germany and the UK. As part of this we are particularly keen to explore the role of women in supporting greater vaccination uptake amongst vulnerable communities, given their care-giving links to both children and the elderly.
Panel
Gustav Ando, Managing Director, Healthcare Economics and Market Access, Global Data
Alison Crawshaw, PhD Candidate in Migrant Health and Participatory Research, St George's, University of London
Rachel Eagan, Researcher, The Vaccine Confidence Project, London School of Hygiene and Tropical Health and Medicine
Ciara O'Rourke, Global Public Policy Director – Vaccination Confidence & Equity, MSD
Stefan Swartling Peterson Health Expert Advisor, Swedish Committee, UNICEF.
Ignacio Peña Ruiz, Director, Salud entre Culturas, Asociación para el Estudio de Enfermedades Infecciosas (Spain)
Marium Qaiser, Global Health Strategist & Policy Consultant
Ramazan Salman, Executive Director, Ethno Medical Centre, (Germany)
Natalina Sutton, Public Health Programme Officer, Southwark Council, London
Jaime Jesus Pérez Martín, President of the Spanish Association of Vaccination Regional General VP on Prevention, Health Promotion and Addictions in Murcia, Spain
Mariano Votta, Director, Active Citizenship Network (EU)
Moderator: Alice Allan, Collaboration Director, Business Fights Poverty
Questions
Why are those living in poverty, or with severe material deprivation or socially excluded groups, less likely to be vaccinated?

What are the main barriers to vaccination for people living in poverty - are there any urban-rural variations to this?

What examples are you aware of that have successfully reached those living in poverty or social exclusion with vaccinations?
Format
This is a text-based discussion which remains open, so please do continue to share your insights.
How to add your comments
To post a comment, you will need to sign in / sign up to the Business Fights Poverty Discussion Forum:
If you are already a member of the Business Fights Poverty online community, click "Log In" at the top right of the page and then enter your details. If you have not logged into our new community platform, you will have to reset your password here
If you are not already a member of the Business Fights Poverty online community, you will need to sign up here . Once you have joined the community, you can return to this discussion page, click "Log In" at the top right of the page and then enter your details.