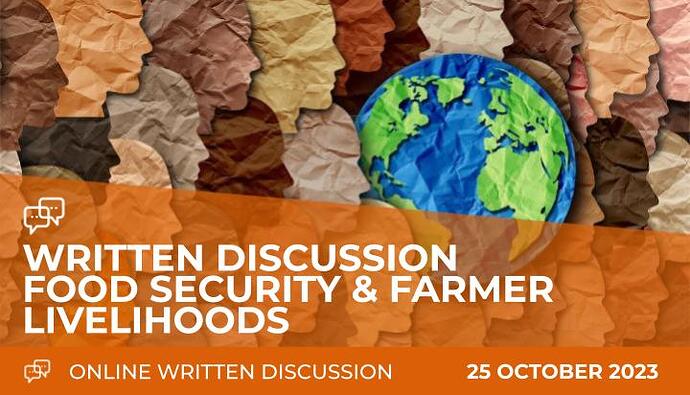 This live written discussion took place with a panel of experts to explore how can we create food security and ensure strong farmer livelihoods.
LIVE Panel
Wednesday 25th October, 10am to 11am EST / 3pm to 4 pm GMT
Background
The climate crisis is having severe consequences for the production of food crops, threatening both global food security and individual farmers' livelihoods. More than ever, putting farmers at the centre of food security is imperative for both humanitarian and economic reasons. Despite producing enough food to feed 1.5 times the current global population, a staggering 800 million people go hungry, with women constituting 60% of this demographic. Moreover, one-third of the global population suffers from nutrient deficiencies, indicating that quantity does not necessarily translate to quality in food distribution.
The majority of our food production comes from smallholdings, with 84% of farms falling into this category. Farmers are custodians of much of our land and have generational knowledge of what works. And yet the average income per day of a smallholder farmer is just £1.50. This stark reality underscores the need for a farmer-centric approach.
This online written discussion explores how we can solve for both food security and ensure quality farmer livelihoods simultaneously. The discussion remains open - you can still add your insights of what has and hasn't worked in other spheres that could assist progress here.
Panel
Felix Atamba, Founder/Youth Project Lead, YAHI (Youth Against Hunger Initiative)
Monique Atouguia, Nature Market Project Manager, Taskforce on Nature Markets
Megan Baumann, Global Qualitative Research Lead, Women's World Banking
Dale Buscher, Senior Director for Programs, Women's Refugee Commission
Oliver Camp, Senior Associate, Nature Positive Actions for Healthy Diets, GAIN
Abir Chowdhury Sr. Manager - Development & Fundraising, Ashoka University
Greg Garrett, Executive Director, Access to Nutrition Initiative
Kazi Jawoad Hossain, Climate, Resilience, and Agriculture Manager, iDE
Chioma Izuwah, Business Fights Poverty Community Member
Demet Intepe, Practical Action
Faith Nyanjui Climate Action and Media Officer, The Youth Cafe
Julie McCarthy, MD, Taskforce on Nature Markets
Haron Muturi, Wake and Shine SHG, Junior Leader, Tharaka Nithi
Sherif Muçalla, Researcher
Diana Onyango, Head of Technical Team, Farm Africa
Juan Pablo Solís, Senior Advisor, Climate and Environment, Fairtrade International.
Sarah Roberts, CEO, Practical Action
Dr Rohini Saran, Project Lead – Nutrition, PATH
Tolu Seun, Business Fights Poverty Community Member
Nick Lynch Staunton, Programme Development Manager, Hand in Hand International
Moderator: Katie Hyson, Director, Thought Leadership & COO, Business Fights Poverty
Questions
What is the business case and economic rationale for delivering both farmer livelihoods and food security?

What can we learn from others with regards to creating adaptation, resilience and rebuilding to help bolster farmer livelihoods and food security?

What are the risks and opportunities for creating solutions to solve for delivering on farmer livelihoods and food security?
Format
This is a text-based discussion which remains open, so please do continue to share your insights.
How to add your comments
To post a comment, you will need to sign in / sign up to the Business Fights Poverty Discussion Forum:
If you are already a member of the Business Fights Poverty online community, click "Log In" at the top right of the page and then enter your details. If you have not logged into our new community platform, you will have to reset your password here
If you are not already a member of the Business Fights Poverty online community, you will need to sign up here . Once you have joined the community, you can return to this discussion page, click "Log In" at the top right of the page and then enter your details.