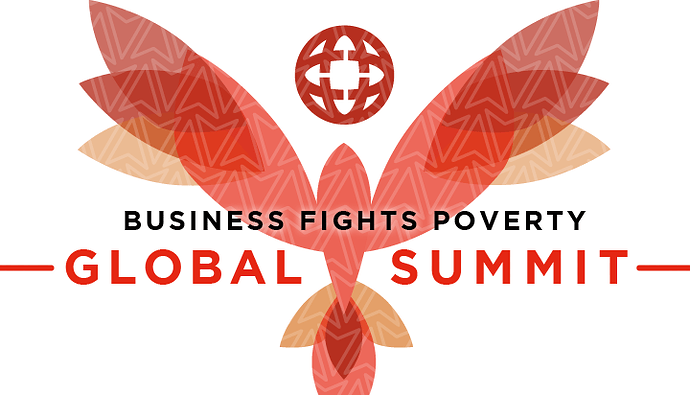 Scroll down to join us for this live written panel discussion on Embedding Climate and Social Innovation into Business. This event is part of the Business Fights Poverty Global Summit.
Live Panel
Monday 21 June 2021, 9.30-10.30AM EDT / 2.30-3.30PM BST
Background
"A business leader has to think about how to solve the societal challenges of today, because if we don't solve them, we will not have a business." Peter Brabeck-Letmathe, Chairman of the Board, Nestlé
The case for why social innovation by business has been well made. The World Economic Forum, Stanford Social Innovation Review, The Young Foundation, The League of Intrapreneurs and others all agree on why social innovation is an important new business generation avenue, employee engagement mechanism and key to community impact. Activating and unlocking this potential within a business, driving these processes deep into core of an organisation and maintaining the momentum to create lasting sustainable impact for the business and society is the hard bit.
The online written discussion will explore how to embed societal impact into business. And as the intersections between social and environment issues become more potent - we will jointly examine how we can work on these frontiers to create a lasting positive impact.
"THERE IS NO GOING BACK. NO MATTER WHAT WE DO NOW,

IT IS TOO LATE TO AVOID CLIMATE CHANGE AND THE POOREST, THE MOST VULNERABLE, THOSE WITH THE LEAST SECURITY, ARE NOW CERTAIN TO SUFFER."

David Attenborough, Naturalist
Panellists
Anna Warrington, Director, India, Forum for the Future
Maxime Braun, Catalyst Manager, FUNDES
Justin Perrettson, Head of Sustainability Partnerships, Scouting & Ventures, Novozymes
Justin Dekoszmovszky, UK Founder & Managing Director, Archipel&Co.
Åsa Skogström Feldt, Manager, IKEA Social Entrepreneurship BV
Dina Rokic, NaTakallam
Mario Elias Gonzalez Lupercio, Social Impact & Shared Value Advisor, CEMEX
Ignatius Odongo, Strategist, Youth Cafe, Kenya
Amalia Johnsson, Director of Programmes, Hand in Hand International
Mark Hillen, Founder and Chairman, Social Enterprise NL
Nic Ramsden, Team Leader, BP4GG
Karen Smith, Agriculture Projects Lead, BP4GG
Mark Kebo Akparibo, Executive Secretary , Tele-Bere VSL Association
Veronica Winja, Sustainability Advisory Consultant, KCL
Questions
How do we embed societal innovation into business? What case studies and examples demonstrate best practice?

What are the challenges of embedding societal innovation into core business and how can we overcome these hurdles?

What are the strategies and tactics that can enable us to bring social and climate innovation together - to deliver wins for society, for the climate and for business?
Format
This is a text-based discussion. Panelists will be sharing their insights live below in writing. There is LIVE video meeting taking place in parallel for you to meet and interact with other participants. After the live session, this discussion will remain open, so please do continue to share your insights.
How to add your comments
To post a comment, you will need to sign in / sign up to the Business Fights Poverty Discussion
Forum:
If you are already a member of the Business Fights Poverty online community, click "Log In" at the top right of the page and then enter your details. If you have not logged into our new community platform, you will have to reset your password here
If you are not already a member of the Business Fights Poverty online community, you will need to sign up here. Once you are have joined the community, you can return to this discussion page, click "Log In" at the top right of the page and then enter your details.
To join other sessions of the Summit click below